PRIVATE YACHT CHARTER (crewed)

Private yacht charter is perfect for families and larger groups who want that extra flexibility to set their own program. We can arrange the charter of yachts of varying standards including Economy, Standard, Deluxe and VIP category ones and with different special facilities for groups wishing to define their own route and programme, and to suit whatever budget is available.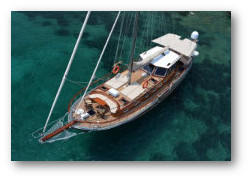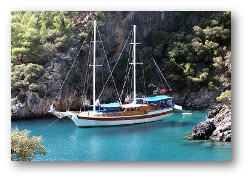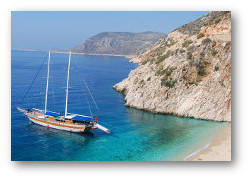 All we'll need to know is:
* Required date period and alternatives if possible;
* Desired type of yacht such as economy, standard, luxury or VIP; or simply an approximate budget you would like to spend for your yachting holiday;
* Requirements of the group for particular on-board features/facilities, (such as, watersports equipment, air conditioning);
* Group size and sleeping combinations (single/couple, children, ages);
As a private party, you are free to charter the yacht of your choice for any agreed period of time and you may also determine the route. We can recommend the best of the time you have available. It is up to you how you discover the wonders of blue voyage.
We provide only the basics of your voyage's programme and you'll be free to settle details together with the Captain during the cruise. He will be happy to comply with your wishes, weather permitting.

In most cases, it is the best to leave it to Captains who are experienced about the places and minding your comfort which can disturb you such as waves, wind, mosquitoes, daily boat crowds, and much more!

Food on board can be supplied half or full board and even all inclusive with an extra charge. We will provide cook and a deckhand for your comfort on board. Private Charter guests are also welcome to provide and cook their own food if they so wish. And then… All you need to do is drift along from day to day permitting the yacht to take the strain and enjoy the cruise in complete relaxation. It all adds up to the perfect special 'Blue Voyage'.