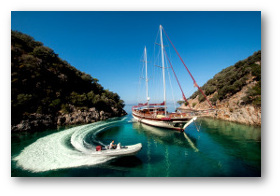 WELCOME

Fethiye and the Lycian coasts of Turkey provide a unique holiday location. Here, the majestic Anatolian Taurus Mountains, enamoured with the Mediterranean, dole out fertility along the ridges and here, blue transforms to green, butterflies to corals, music to dance and the nomads to fishermen; and where, throughout the history, different cultures, enhanced by the exuberant rhythm of light and water, maintain their co-existence in friendship and peace.

Compass Yachting offers you the unique experience of discovering these delights on a traditional gulet-type wooden yachts. Here, you'll find the dream escape from the cares of everyday life.

Read on to find out more about Blue Voyages and other journeys of discovery in the land where East meets West.


A DREAMY VOYAGE IS ABOUT TO BEGIN !